Diplomatic Visa Immigration
Diplomats and other foreign government officials traveling to the United States to engage solely in official duties or activities on behalf of their national government must obtain A-1 or A-2 visas prior to entering the United States. They cannot travel using visitor visas or under the Visa Waiver Program. With the exception of a Head of State or Government — who qualifies for an A visa regardless of the purpose of travel — your position within your country's government and your purpose of travel determine whether you need an A-1 or A-2 visa. Immediate family members of diplomats and government officials receive A-1 or A-2 visas, with few exceptions. Personal employees, attendants, or domestic workers for diplomats and government officials (holding a valid A-1 or A-2 visa) may be issued A-3 visas.
Submit Required Documentation
Passport valid for travel to the United States – Your passport must be valid for at least 6 months beyond your period of stay in the United States (unless exempt by country-specific agreements). If more than one person is included in your passport, each person who needs a visa must submit a separate application.
Nonimmigrant Visa Application, Form DS-160 confirmation page (For applicants applying outside the United States)
Photo – You will upload your photo while completing the online Form DS-160. If the photo upload fails, you must bring one printed photo in the format explained in the Photograph Requirements.
A diplomatic note – This note is written confirmation from your country's government of your status and official purpose of travel. A-3 applicants also require diplomatic notes to confirm the official status of their employers. Beginning July 1, 2014, the sending government must provide the following information in the diplomatic note submitted with any A-1 or A-2 visa application outside the United States, and for any request for a change into such visa status in the United States: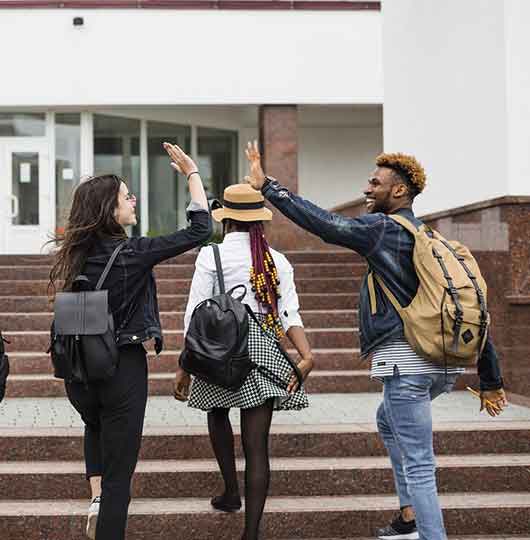 You can apply Visa & immigration from any branches

More than 20+ years of experience of our Lawyer

Best Coaching & Exam Preparation with our Coaching center

30+ Country Immigration and Trusted by thousand of people

We Provide Immigration Services Form Experience Agents
Immediate Family Members
Visa application procedures for your immediate family members are the same as for you. Important Notice: Effective immediately, U.S. embassies and consulates will adjudicate visa applications that are based on a same-sex marriage in the same way that we adjudicate applications for opposite gender spouses.
In addition to a spouse and unmarried sons and daughters, immediate family members who may qualify to receive A-category visas include:
any other relative, by blood, marriage, or adoption, of you or your spouse;
a domestic partner; and
a relative by blood, marriage, or adoption of the domestic partner.