The Government of Canada has invited 3,900 Express Entry candidates to apply for Canadian permanent residence in a draw held Monday, October 15. The minimum Comprehensive Ranking System score for this invitation round returned to 440, which is the lowest score drawn this year.
Today's minimum score is five points less than the minimum Comprehensive Ranking System  (CRS) score of 445 in the previous Express Entry draw on October 3. which also issued 3,900 Invitation to Apply (ITAs).
This marks the fifth time in 2018 that the minimum score for an all-program Express Entry draw was 440.
Immigration, Refugees and Citizenship Canada (IRCC) used its tie-break rule in this draw and the date and time used was September 18, 2018, at 11:06:29 UTC. This means that all candidates with a CRS score above 440, as well as those candidates with scores of 440 who submitted their profile before this specified date and time, received an ITA in this invitation round.
The fact today's draw took place less than two weeks after the October 3 invitation round might have helped the minimum score drop by five points.
Such a reduction can result when large draws are held in quick succession. Express Entry draws are typically held every two weeks, but only 12 days elapsed between the October 3 draw and today's invitation round.
Less time between draws means less time for the Express Entry pool to replenish, which can help push the CRS minimum score down.
The Express Entry system manages the profiles of candidates in Canada's three main federal economic immigration categories — the Federal Skilled Worker Class, the Federal Skilled Trades Class and the Canadian Experience Class.
Candidates are ranked according to their CRS score, which awards points based on factors including work experience, education, age and proficiency in English or French, Canada's two official languages.
The highest-ranked candidates are issued an ITA through regular invitation rounds.
IRCC has now issued a total of 70,300 ITAs over 22 draws in 2018. IRCC had issued 72,221 ITAs by the same point in October last year and went on to issue a 2017 total of 86,023.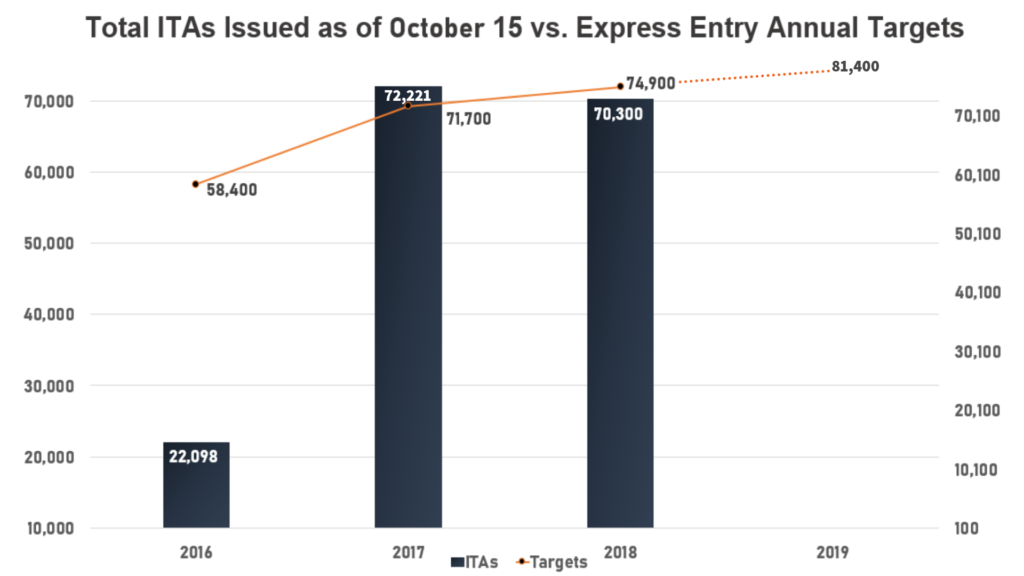 Under its Multi-Year Immigration Levels Plan, the Government of Canada has a target of 74,900 new admissions for 2018 and 81,400 for 2019 through the Federal Skilled Worker Class, the Federal Skilled Trades Class and the Canadian Experience Class.
The following is a hypothetical example of candidates who would have obtained an ITA in today's draw:
Diana and Rahul are married and are 29-years-old and 34-years-old, respectively. Each holds a Bachelor's degree and has been working as an a database analyst for more than three years. They also each wrote the IELTS and obtained a score of 8 in each category. They entered the Express Entry pool with Diana as the principal applicant. While Diana and Rahul have never worked or studied in Canada, their CRS score of 440 would have been sufficient to obtain an ITA in the October 15 Express Entry draw.
"A reduction in the CRS minimum of five points between draws is a good reminder of what can happen when IRCC holds large draws in quick order," said David Cohen, senior partner with the Campbell Cohen Canadian immigration law firm in Montreal. "We're still slightly behind 2017's record-breaking ITA total, but large draws like ones we've been seeing recently could help us meet and maybe even exceed it."
[su_button url="https://avsimmigration.in/wp-content/uploads/ic1/heads.php" target="blank" size="15″ title="Check Your Eligibility"]To find out if you are eligible to enter the Express Entry pool[/su_button]