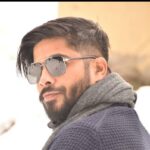 The entire team had done a great job all through the journey. I would also like to thank you for the services.I would like to take a moment appreciate your efforts in helping me in my dream of studying abroad. Thanks for the support!! Best Canada Immigration Consultant in India for sure!!!
My experience with AVS Immigration has been brilliant so far, with a wonderful and professional team right from start! My consultant Mr. Prabhat has been extremely knowledgeable, has a lot of experience and put a great effort into my application process, making sure it moves forward smoothly. Also, he is very patient and has very good communication skills, explaining repeatedly making sure to clear all my queries. I would like to appreciate his support and valuable guidance. I wish him all the best with his future and also good luck to the entire Reliable team. I highly recommend Avs Immigration for all their services available.
Avs Immigration is the best option you can get for professional Immigration consulting. Their team is defined perfectly with each associate knowing their responsibility. Keep up the good work and will blindly refer your services to my acquaintances. Also special thanks to my assigned Avs  Immigration Pvt Ltd., Ms Vaishali for having tremendous patience and professional attitude. You have achieved expertise to handle complex scenarios like mine. I highly recommend Avs Immigration Services
Avs Immigration is one of the best immigration consultancy who is transparent , I always recommend them because, I am not eligible for the same due to my age, and after checking my eligibility they gave me genuine report that I am not eligible for the same. and before that I visited to many consultancy, They said Canada govt change their demand list and i will be eligible once the province will open. But I only believe on Avs Immigration as they guided me well. Now i start the case of my sister with Avs Immigration, I do have a strong believe on them.
I started my application process for Canada 2 years back with Avs Immigration and last year they gave me a free 1 year extension. 2 months prior to the extended period I have got the nomination for Alberta. They have given another extension to make sure I get all the documentation done without paying anything extra. I really appreciate the management for all these considerations. Thanks you so much to help me sail through this journey and get my dream come true. The Best Canada Immigration Consultant In India