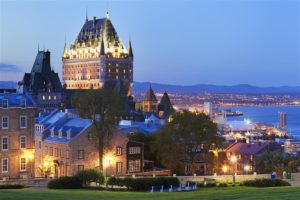 The mayor of Quebec City is calling for an increase in immigration there to address what he says is a 'dangerous' shortage of labour.
Immigration topped Mayor Régis Labeaume's newly released list of annual priorities, citing the urgent need to fill 17,000 job vacancies in the Quebec City region.
"This dramatic lack of manpower is the most dangerous problem and can jeopardize our economic future," Labeaume said. "It is no longer the time for observations or studies or good intentions."
The mayor said the Quebec City region is only receiving six per cent of newcomers immigrating to the province each year, and that number should be at least 10 per cent.
This would translate to around 5,300 newcomers per year, or an increase of around 2,000 over current levels.
Election issue
Labeaume's call comes as Quebec's political parties jockey for position in advance of the province's October 1 general election.
He said Quebec's next government also needs to improve the province's immigration system to reduce application processing times and generally make the immigration process easier, notably the recognition of foreign professional experience and degrees.
Lebeaume further emphasized the need for French-speaking immigrants, noting that most people living in the Quebec City region speak French as their first language.
"It's a French city and there are two ways to succeed in immigration: to get a job and to speak the local language," Labeaume told journalists.
"We have the jobs; if they speak French, it's going to be a total success."
Labeaume challenged those now running for office to say how many more immigrants they would be ready to accept if elected.
Philippe Couillard, leader of the ruling Quebec Liberal Party, welcomed Labeaume's challenge, saying recent changes that his government has made to the province's immigration system will help.
"We've provided the tools to better distribute newcomers around the province," Couillard said.
Changes introduced to Quebec's immigration system include a new Expression of Interest system for the Quebec Skilled Worker Program.
The new system will allow immigration authorities to select immigration candidates who match labour market needs in regions around the province.
Quebec City is the capital of Quebec and one of Canada's oldest, most picturesque cities. Its walled Old Town is famous for its cobblestone streets and European charm.